Welcome to the Computer Science and Engineering (CSE) Department at the University of California, Riverside.
UCR's CSE Department grew out of CS-oriented degree tracks in the department of Mathematics in the early 1970s, and became a department in the Bourns College of Engineering in 1990.
The department offers undergraduate degrees in computer science, computer engineering, and computer science with business applications. CSE has the largest graduate program on campus offering Masters and Doctoral degrees in computer science, with excellent placements (see our Alumni page).
Since 1992, the CSE Department has been part of the Marlan and Rosemary Bourns College of Engineering (BCOE). BCOE is composed of five departments: Bio-Engineering, Chemical and Environmental Engineering, Computer Science and Engineering, Electrical and Computer Engineering, and Mechanical Engineering and includes several major research centers: Center for Environmental Research and Technology (CE-CERT), Center for Nanoscale Science and Engineering (CNSE), the Data Science Center, the Cyber Security and Privacy Center, and the Center for Research in Intelligent Systems (CRIS).
The University of California at Riverside is one of ten campuses of the University of California System, widely recognized as the preeminent public university system in the world. Located in the rapidly growing Inland Empire region of Southern California, the 1,200-acre UCR campus lies at the foot of the Box Springs Mountains in Riverside.
The historic City of Riverside is noted for its palm-lined avenues and its mild climate. Riverside is centrally located about 55 miles east of Los Angeles and about 75 miles north of San Diego. The combination of the unrivaled climate of Southern California with easy access to Pacific Ocean beaches, deserts, mountains, cultural activities, shopping, and many attractions make Riverside a wonderful place to live and work. The metropolitan areas of Los Angeles, Orange County, Palm Springs, and San Diego are all within easy reach.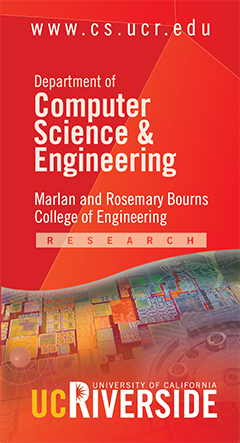 Department Brochure